650 words, 2 1/2 minutes.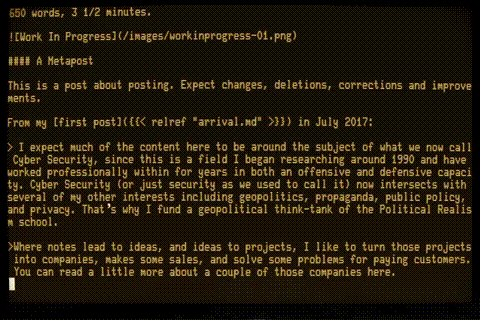 A Metapost
This is a post about posting. Expect changes, deletions, corrections and improvements.
From my first post in July 2017:
I expect much of the content here to be around the subject of what we now call Cyber Security, since this is a field I began researching around 1990 and have worked professionally within for years in both an offensive and defensive capacity. Cyber Security (or just security as we used to call it) now intersects with several of my other interests including geopolitics, propaganda, public policy, and privacy. That's why I fund a geopolitical think-tank of the Political Realism school.
Where notes lead to ideas, and ideas to projects, I like to turn those projects into companies, make some sales, and solve some problems for paying customers. You can read a little more about a couple of those companies here.
I'm 28 down, 35 to go. Not all will make the cut. My most popular received 32,000 unique hits and more than 100 comments. A few of those commenting even appeared to have actually read the article.
As each post is made it will be removed from this list.
Updated April 17th 2019.
Cyber Security
| Title | Precis |
| --- | --- |
| The Biggest Problem In Cyber Security pt.II | Aesthetics in Cyber Security, post 2/2 |
| Avoiding The Infosec Extinction pt.III | Sustainable, continuous growth of the security market |
| Build The CSO Up, Don't Help Him Out pt.II | Elevating the CSO, post 2/2 |
| Applications Of Paradoxes In Information Security | Live experiment/cyber range |
| Sizing The Infosec Market, An Empiricists Approach | A novel lens on the product & services market |
| Infosec Philosophy | Staying sane during our forever-war |
| Attack Surface Reduction | Winning systems for Infosec practitioners |
| Reporting By Exception | Winning systems for Infosec practitioners |
| Accumulate To Investigate | Winning systems for Infosec practitioners |
| Divert, Deceive, Diffuse | Winning systems for Infosec practitioners |
| Trust, But Verify | Winning systems for Infosec practitioners |
| Infosec in the Serverless Age | Reimagining Infosec for the next decade |
| A Nomenclature For Security Products | A maturity-based categorisation system |
| Grand Strategy For The CSO | Putting it all together |
| Bug Bounty & Software Quality | Discussion & experiment |
| Dynamic Compilation To Reduce Attack Surface | A development of the Attack Surface Reduction |
| Evaluating Security Products In The 21st Century | Selection criteria for the next decade |
| Information Security, Logical Fallacies | Infographic & live page |
| Documenting Breaches with H Diagrams | Getting the baloney out of breach reporting |
Geopolitics
| Title | Precis |
| --- | --- |
| No Prosperity Without Security | A realists case for bulk surveillance |
| Don't Be Naive | When "don't be evil" doesn't quite cut it anymore |
| The Application Of AI to Grand Strategy Simulation | Policy development, measurement, and predictive tools |
| Cyber Conflict & Strategic Ambiguity | Parallels & divergence in nuclear and Cyber conflict |
| Why Propaganda Is Interesting | The 4 lessons propaganda offers us |
Product Management
| Title | Precis |
| --- | --- |
| VMCo Retrospective | How we built a poor-man's Nutanix and what it taught me |
| Ignoring Chaos & Remaining Effective | Operating more efficiently by use of selective "deafness" |
| Why Wont You Die? | Killing the telco business once and for all |
| Monetizing Open Source Software | The psychology of getting customers to pay for free |
Productivity
| Title | Precis |
| --- | --- |
| The Failure Of Organisational Memory | The Paradox of a knowledge economy with crippling amnesia |
| Productivity At Work | Don't bring your whole self to work |
| Increasing Productivity By Documentation Automation | Unleashing productivity in a knowledge economy |
| GDP & Confidence in the post-scarcity economy | |
Computer Science
| Title | Precis |
| --- | --- |
| The Laws Of Physics & Systems Performance | Mental models for solving performance problems in computing |
| Public Confidence & Machine Learning | A qualitative solution to public concerns about ML |
| Goodnight sweet PRINCE | Retiring current project management for something better |
Philosophy
| Title | Precis |
| --- | --- |
| In Defence Of Elitism | Why elitism is essential and good |
| The Edge Of Now, Our Transient Reality | The ephemeral web & the danger it presents |
Ideological Subversion
| Title | Precis |
| --- | --- |
| Ideas Aren't Bullet Proof | Beating terrorism first in the mind |